Best Graphics Card Under $100 in 2019 BD
Under $100 Dollars Graphics Card List
Here we listed top budget-friendly graphics card by features, performance and the price, which is under $100 Dollar (Approx: 8500tk). There is more graphics card are available in the market but we make the list with those products which are available in our country. If you want more than use the search button with the preferred model name.
GPU List
MSI GeForce GT 1030 2GH OC (8,500)
Zotac GeForce GT 1030 (8,200tk)
Gigabit NVIDIA GeForce GT 1030 OC (7,800tk)
Asus GeForce GT 710 (5,800tk)
Gigabit NVIDIA GeForce GT 710 (5,100tk)
GPU Specifications
Here are the specifications and benchmark scores of the specific one separately.
MSI GeForce GT 1030 2GH OC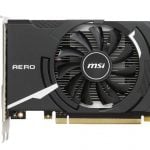 | | |
| --- | --- |
| Chipset | GP108-300 |
| Architecture | Pascal |
| Cores | 384 Units |
| Base Clock | 1265 MHz |
| Boost Clock | 1518 MHz |
| Memory | 2 GB GDDR5 |
| Memory Bus | 64bit |
| Recommended PSU | 300 W |
| Power Consumptions | 30 Watt |
Zotac GeForce GT 1030
| | |
| --- | --- |
| Chipset | GP108-300 |
| Architecture | Pascal |
| Cores | 384 Units |
| Base Clock | 1228 MHz |
| Boost Clock | 1468 MHz |
| Memory | 2 GB GDDR5 |
| Memory Bus | 64bit |
| Recommended PSU | 300 W |
| Power Consumptions | 30 Watt |
Gigabit NVIDIA GeForce GT 1030 OC
| | |
| --- | --- |
| Chipset | GP108-300 |
| Architecture | Pascal |
| Cores | 384 Units |
| Base Clock | 1266 MHz |
| Boost Clock | 1518 MHz |
| Memory | 2 GB GDDR5 |
| Memory Bus | 64bit |
| Recommended PSU | 300 W |
| Power Consumptions | 30 Watt |
Asus GeForce GT 710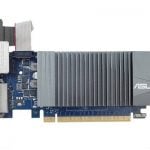 | | |
| --- | --- |
| Chipset | — |
| Architecture | Fermi |
| Cores | 192 Units |
| Base Clock | 954 MHz |
| Boost Clock | 1800 MHz |
| Memory | 2 GB DDR3 |
| Memory Bus | 64bit |
| Recommended PSU | 300 W |
| Power Consumptions | 19 Watt |
NVIDIA GeForce GT 710
| | |
| --- | --- |
| Chipset | GP108-300 |
| Architecture | Fermi |
| Cores | 192 Units |
| Base Clock | 954 MHz |
| Boost Clock | 1800 MHz |
| Memory | 2 GB DDR3 |
| Memory Bus | 64bit |
| Recommended PSU | 300 W |
| Power Consumptions | 19 Watt |