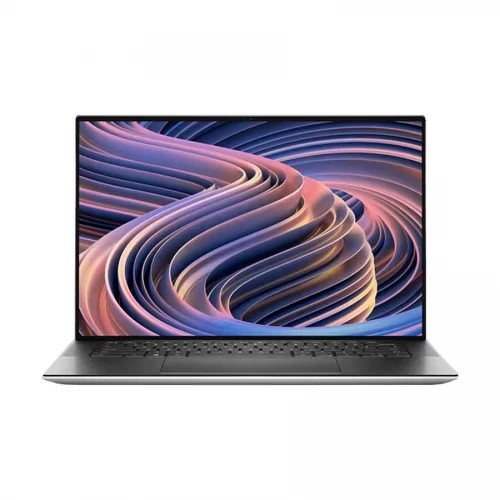 Key Features
Processor: Intel Core i7-12700H (12th Gen)
Display: 15.6-inch OLED, 3.5K resolution, touchscreen
Memory: 16GB DDR5 RAM, 4800 MHz
Storage: 512GB M.2 PCIe NVMe SSD
Graphics: NVIDIA RTX 3050 Ti, 4GB GDDR6
Keyboard: Backlit
Touchpad: Precision touchpad
Camera: HD webcam
Audio: Stereo woofer speakers (2.5 W x 2) and stereo tweeter speakers (1.5 W x 2), dual-array microphones
Ports: 2 x Thunderbolt 4, 1x 3.5mm headphone and microphone
Connectivity: Intel Killer Wi-Fi 6 1675 (AX211), Bluetooth 5.2
Security: Fingerprint sensor
OS: Windows 11 Home
Battery: 6-cell, 86Wh, up to 4 hours backup
Adapter: 45W Type-C Power Adapter
Color: Platinum Silver
Dimensions: 344.40 x 230.10 x 18.54mm
Weight: 1.96 kg
Body Material: Aluminum
Warranty: 2 years International Limited Warranty (1 year for Battery & Adapter)
Dell XPS 15 9520 Core i7 12th Gen RTX 3050 Ti 4GB Graphics
Dell XPS 15 9520 Specifications
| | |
| --- | --- |
| Processor | |
| Processor Brand | Intel |
| Processor Model | Core i7-12700H |
| Generation | 12th Gen |
| Processor Frequency | 2.3GHz~4.7GHz |
| Display | |
| Display Size | 15.6 Inch |
| Display Type | OLED |
| Display Resolution | 3.5K (3456×2160) |
| Touch Screen | Yes |
| Memory | |
| RAM | 16GB |
| RAM Type | DDR5 |
| Removable | Yes |
| Bus Speed | 4800 MHz |
| Storage | |
| Storage Type | M.2 PCIe NVMe SSD |
| Storage Capacity | 512GB |
| Extra M.2 Slot | N/A |
| Supported SSD Type | M.2 PCIe NVMe |
| Graphics | |
| Graphics Model | NVIDIA RTX 3050 Ti |
| Graphics Memory | 4GB |
| Graphics Type | GDDR6 |
| Keyboard & TouchPad | |
| Keyboard Type | Backlit |
| TouchPad | Yes |
| Camera & Audio | |
| WebCam | HD Webcam |
| Speaker | Stereo woofer 2.5 W x 2 and stereo tweeter 1.5 W x 2 |
| Microphone | Dual-array microphones |
| Ports & Slots | |
| Optical Drive | N/A |
| USB Type-C / Thunderbolt Port | 2 x Thunderbolt 4 |
| Headphone & Microphone Port | 1x 3.5mm headphone |
| Network & Connectivity | |
| LAN | N/A |
| WiFi | Intel Killer Wi-Fi 6 1675 (AX211), 2×2, 802.11ax |
| Bluetooth | Bluetooth 5.2 |
| Security | |
| Fingerprint Sensor | N/A |
| Software | |
| Operating System | Windows 11 Home |
| Power | |
| Battery Type | 6 Cell |
| Battery Capacity | 86Wh |
| Backup Time (Approx) | Up to 4 Hrs |
| Adapter Type | 45W Type-C Power Adapter |
| Physical Specification | |
| Color | Platinum Silver |
| Dimensions | 344.40 x 230.10 x 18.54mm |
| Weight | 1.96 kg |
| Body Material | Aluminum |
| Warranty | |
| Warranty Details | 02 years International Limited Warranty (1 year for Battery & Adapter) |
Dell XPS 15 9520 In-depth review
The Dell XPS 15 9520 is a powerful and feature-rich laptop that offers impressive specifications and excellent performance. Let's dive into the details of this laptop review:
Starting with the processor, the Dell XPS 15 9520 is equipped with an Intel Core i7-12700H 12th Gen processor. With a base frequency of 2.3GHz and a turbo boost of up to 4.7GHz, it delivers exceptional processing power for demanding tasks.
The display on this laptop is a stunning 15.6-inch OLED panel with a resolution of 3.5K (3456×2160). The OLED technology ensures vibrant colors and deep blacks, offering a visually immersive experience. Additionally, the touchscreen feature adds convenience and interactivity to your computing.
In terms of memory, the Dell XPS 15 9520 comes with 16GB of DDR5 RAM, providing smooth multitasking and efficient performance. The RAM is removable, allowing for future upgrades if needed. The bus speed of 4800 MHz ensures fast data transfer and seamless operations.
For storage, this laptop is equipped with a 512GB M.2 PCIe NVMe SSD, offering ample space for your files, documents, and applications. The SSD type ensures faster read and write speeds, enhancing overall system responsiveness.
The graphics department is handled by the NVIDIA RTX 3050 Ti graphics card with 4GB of dedicated GDDR6 memory. This graphics card delivers smooth visuals and enables you to tackle graphics-intensive tasks such as video editing and gaming with ease.
The Dell XPS 15 9520 features a backlit keyboard and a responsive touchpad, providing comfortable and accurate input options. The HD webcam allows for clear video conferencing, while the dual-array microphones ensure high-quality audio capture.
In terms of connectivity, the laptop offers two Thunderbolt 4 ports for fast data transfer and versatile connectivity options. Additionally, there is a headphone and microphone port for audio accessories. The laptop is equipped with Intel Killer Wi-Fi 6 and Bluetooth 5.2, ensuring seamless wireless connectivity.
Security features on this laptop include a fingerprint sensor for secure login and data protection. It comes pre-installed with Windows 11 Home, providing a user-friendly and optimized operating system environment.
The Dell XPS 15 9520 is powered by a 6-cell battery with a capacity of 86Wh, providing a decent backup time of up to 4 hours. The included 45W Type-C Power Adapter ensures fast and efficient charging.
In terms of physical specifications, the laptop has a sleek Platinum Silver color and an aluminum body, exuding a premium and professional look. With dimensions of 344.40 x 230.10 x 18.54mm and a weight of 1.96 kg, it is portable and easy to carry.
The Dell XPS 15 9520 comes with a 2-year International Limited Warranty, providing peace of mind and support for your investment.